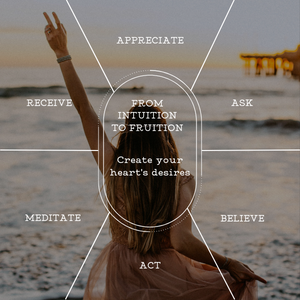 This deep-dive course explores the power of intuition and how to use it to create the life of your dreams. Discover how to strengthen and trust your intuition, and how to use manifestation tools to move from intuition to fruition. Plus, explore how to harness it to live with joy, purpose and abundance.
May 3rd- June 7th
This life is our playing field and all that we desire is available to us. Our intuition, our imagination, our belief, our action, our appreciation all open up the doors for us to receive wonders in our life and be happy with all that is. 
What if you knew that every heart felt decision would lead you on a path to your most desired destination; to know that each decision can be based in ease, joy and a knowing all will be ok. 
If you want to discover your innate abilities to create your desired reality then come join me for this 6 week adventure. 
Our internal compass, our intuition knows to lead us to the most magical places, to those our heart most deeply desires. Every wish, every insight has the ability to become a reality. How do we get there? We let the inner guidance lead the way.
I am very excited to share with you what has helped me along my path, how I connect with divine guidance and trust my intuition to lead me to the most wonderful places. Alot of the teachings are based in the teachings of Jewish mysticism, Kabbalah which in Hebrew means to receive. 
Starting May 3rd, I will be teaching techniques on how to tap into your inner wisdom, your intuition to help you bring your desires and ideas to life, to fruition. 
* If you want tools on how to connect with your intuition 
* If you have ideas yet don't always know how to bring them to fruition
* If you hold back on taking action because fears get in the way
* If you debate on your next steps and have insecurities
* If you have a feeling there is more to life than meets the eye and want to feel ease and joy
I will share tools on how to:
* Tune in and strengthen your intuition
* Receive divine guidance for yourself 
* Let go of limiting thoughts and beliefs
* Let go of fears and doubts, remove blocks 
* Understand the language of the universe- See signs and synchronicities along your path to give you confidence and reassurance on your next steps.
* Take inspired action that aligns with your intuition while recognizing the right opportunities for you
* Co- create with the universe & receive what you desire
You have the option of purchasing the course including 1 or 2 mediumship sessions ($300 value) Make sure you choose the option that best suits you at checkout. 
The course begins Wednesday 5.3.23 at 12:00 pm PST and will be held on zoom for 1.5- 2 hours each week. You will receive the recordings and the zoom link upon signing up. 
If you have any questions, please feel free to e-mail me at orly@laraandlou.com. 
Looking forward to seeing you soon,
Love and light,
Orly
A bit about me: I am a Spiritual Medium connecting with loved ones who have passed, guiding you to live & be in your light. I help overcome limiting beliefs, step into your potential, know your gifts & give tools and clarity on how to manifest your heart's desires.
Here are a few testimonials:This truly is an offer to jump all over. It was so beautiful to have the conversation with Orly. I really had some sweet and amazing messages from beyond. I feel so much more connected to my mom now after our call. - Carin
I highly recommend Orly!  I feel Orly truly connected with my mother and shared some amazing messages. She is one of the better mediums I have been in touch with. Her loving, kindness and gentleness are wonderful gifts as she delivers the messages that are personal and emotional.  Thanks again!💖 Marnie
Anytime I meet with Source, we meet in fields of golden wheat. Orly never could have known this but Divine appointment as my teacher for this Season. In a time of Harvest I met Orly, Medium and Intuition Coach, who I could not only trust but receive confirmation, week by week, that I am on the right path, receiving healing and Divine guidance along our human journey. I trusted and felt Source meet me in practical and loving ways, especially during our 1:1 meetings beyond the gift of our encouraging and most loving course container. Orly is a gift of the Master and her tools served me in personal and profound ways to love myself and others expansively. -Becca Rae Eagle, M.S.Ed.
I wanted to share my experience with a reading from Orly Narkiss-Altaras. She is gifted, kind, sensitive and gave me a spot on experience. My cousin passed away last week. There were so many questions I had regarding her passing. Orly not only enlightened me, she gave me peace during this difficult time. Loved ones came through and she gave me signs to look for. I left our session feeling comforted and ready to move on knowing I am loved. Thank you Orly! -Tami