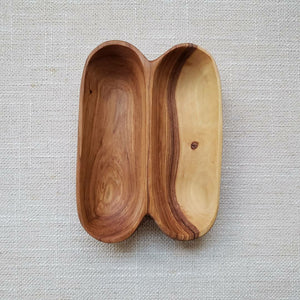 Kenyan wood carvers transform richly grained wild olive wood to create this small divided condiment dish, which can be used to offer salt & pepper ○●
.
Hand carved from wild olive wood, these spice bowls lend an organic, earthy touch to your tabletop. 
Because this is a handcrafted item, each will vary slightly.
Origin: Kenya
Size: Measures approximately 4.5"L x 3.5"W x 1"T. Hand wash.
Materials: Wild olivewood
We work with representatives of Kamba artists in Kenya to obtain these hand-carved works of beauty derived from the olive wood tree. The artisans benefit greatly from the sale of olive wood products, with marked improvements being seen for the individual, their families, the community. The olive wood tree is sacred to Kenyans and appreciated worldwide for its beautiful grain patterns and durability.
Olive wood spice dish
I love it it's beautiful and it does exactly what it's meant to do.