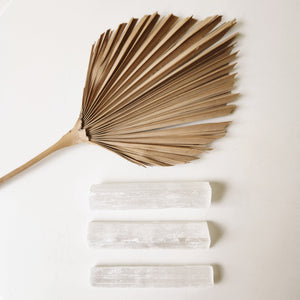 Selenite is considered one of the more powerful healing stones. It ensures a peaceful environment when stones are placed around the home and is excellent for meditation. It is used for washing away impurities of the mind, including negative thoughts, negative memories, mental blockages, and even help against insomnia.
Selenite primarily activates your higher chakras. Specifically, these are called the crown chakra and the third eye chakra. These are associated with mental clarity and divine inspiration.
Hold one selenite rod in each hand for five minutes. You can do this sitting up or lying down, whichever is more comfortable to you. In this position, selenite has the ability to clear, protect and shield your energy body. Use this technique when you want to meditate or take a few minutes to ground yourself. Times when it is especially helpful to sit with your harmonizers include; when you are experiencing anxiety; and when you need to cleanse a cluttered mind space and move your energy focus back into your body.
Choice of 1,2 or 3 wands